February 2023 Event
Silicon CPV is attending the Akhter Industry day 2023 on the 8th June 2023 at Defence Battle Lab in Dorset.
March 2020 COVID – 19 UPDATE
COVID – 19 is having a significant impact on our lives and is causing a lot of uncertainty. As such, I just wanted to let you know that here at Silicon CPV, it's business as usual. Orders are still being processed and delivered however this is having a significant impact on our supply chain. Our customer support and sales teams are working hard to ensure the high levels of satisfaction you've come to expect.
Should anything change, we will, of course, let you know as soon as we can.
If you have any questions or concerns, don't hesitate to reach out to us.
Tel: 01279 821200
Email: enquiries@siliconcpv.com
December 2019 COP25 UN climate conference, Madrid, Spain
Humayun Mughal, our CEO meeting with Nancy Pelosi, Speaker of the United States House of Representatives at the COP25 conference in Madrid.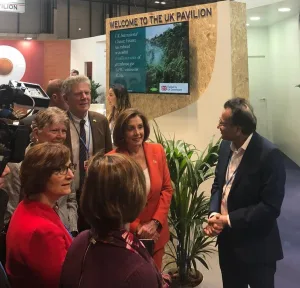 February 2019 Silicon CPV Exhibits at Solarie Expo Maroc
Click Here to Read the Silicon CPV Press Release February 2019
June 2018 Shining Light on Public Spaces
Click Here to Read the Silicon CPV Press Release June 2018
May 2018 Silicon CPV Helps To brighten Villagers Nights in Bou Craa
Click Here to Read the Silicon CPV Press Release May 2018
March 2018 Silicon CPV Wins $1.8 Million Solar Powered Street Light Order from Pakistan
Click Here to Read the Silicon CPV Press Release March 2018
6th – 8th March 2018 We Attended the Middle East Electricity Show
Located at the Dubai World Trade Centre, UAE University of Southampton

Paper on A High-Efficiency, Low-Cost IBC Cell Using Doped Laser Cut Back-Side
4 OCTOBER 2017 Renewable Energy Set to Grow Globally 40% by 2022
12 OCTOBER 2017 How "Clean Growth Strategy" Hopes to Deliver UK Climate Goals
11 MAY 2017 Solar Street Lighting Market Estimated To Reach $22.3 Billion by 2025
https://www.prnewswire.com/news-releases/solar-street-lighting-market-expected-to-reach-us-2230-bn-by-2025-transparency-market-research-621985413.html
23 NOVEMBER 2016 COP 22 Highlights and Outcomes
Silicon CPV attended the 22nd Conference of the Parties to the UN Framework Convention on Climate Change in Marrakech, Morocco (COP 22 7-18 November 2017). In a high-level Marrakech Action Proclamation, parties collectively declared that the "extraordinary momentum on climate change worldwide…is irreversible." Similar messages were sounded continuously throughout the conference by businesses, cities, states and NGOs, and by heads of state and ministers from Africa, China, Europe, Latin America and elsewhere, including U.S. Secretary of State John Kerry. Marrakech was an important transitional moment, pivoting from the years of negotiation that produced the Paris Agreement to a new phase focused on implementation. The link below describes the final outcomes on the conference.
https://www.ieta.org/resources/UNFCCC/COP22/COP22WRAP_FINAL.pdf
10 JUNE 2016 Lighting Africa – An Innovation From The World Bank Group
An energy revolution taking place in Africa with an estimated 86 million people across Africa and Asia have gained access to basic energy services via an off-grid solar market initiative since 2015.
https://www.lightingafrica.org/lighting-africa-featured-african-business-magazine/
14 MARCH 2016 The Great Debate 2016 – Can Renewables Meet Our Electricity Needs?
One of the speakers Professor Humayun Mughal, Silicon CPV discusses Solar Power and the growing increasing source since 2009 at The Institution of Engineering and Technology to University of Reading.
https://tv.theiet.org/?videoid=8232
3 MARCH 2016 Launch of World Bank Group
Off-grid energy solutions provide a 3 billion dollar market opportunity for investors
https://www.lightingafrica.org/launch-2016-world-bank-group-bloomberg-off-grid-solar-market-trends-report/
4 NOVEMBER 2014 CDT-PV Kick Off Event, University of Liverpool
Professor Humayun Mughal discusses the background and foundations of Silicon CPV , patents, projects, solar cells, technology, solar LED street lights and the Silicon CPV product range.
PLEASE CONTACT US TO LEARN MORE